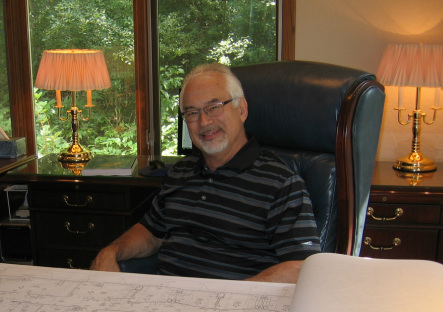 Background and Mission
Lou Jantzen began his consulting firm in 1990 as Jantzen Engineers, SC. Since that time, he has benefited many building owners by not merely providing construction representation, but by providing strategic management and team leadership over the entire design and construction process. The company's ultimate mission continues to be assurance that the owner's project goals are attained with minimum risk and maximum value.

We have a successful track record in budget, cost, schedule, and quality control of a wide range of sizes and types of building construction projects. For most of our history, we have specialized in representing owners in the development of major healthcare projects in the Midwest. Whether you need a full-time advocate to lead your entire project from conception to closeout or you just need some specific building construction advice, Jantzen Consulting is ready to serve.

---
Qualifications of Lou Jantzen, P.E.
Bachelors and Masters degrees in Civil Engineering with emphasis in Construction Management

Registered Professional Engineer in the state of Wisconsin

A solid 40 years of diverse engineering and management experience in the planning, design and construction of over $1.9 billion (today's dollars) in new and renovated healthcare facilities as well as over $624 million in industrial, heavy and commercial construction

Has held the position of Project Manager or higher since 1979

All projects under his control have been completed on time and on budget or better

Has saved owners over $11 million through negotiating contracts, contractor claims and change orders

Member of the American Society for Healthcare Engineering and Wisconsin Healthcare Engineering Association

Certified Healthcare Constructor (CHC) by the American Hospital Association
LEED Accredited Professional by the USGB
Major Clients

Children's Hospital of Wisconsin, Milwaukee, WI
Lillibridge Healthcare Services, Chicago, IL
St. Vincent Hospital, Green Bay, WI
CG Schmidt, Inc., Milwaukee, WI

St. Joseph's Hospital, Milwaukee, WI
Children's Hospital and Health System, Milwaukee, WI

Seeger Health Resources, Milwaukee, WI

St. Michael's Hospital, Stevens Point, WI

Firstar Bank, Milwaukee, WI

Blue Cross & Blue Shield United of Wisconsin, Milwaukee, WI

Aqua-Chem, Inc., Milwaukee, WI

Project Categories and Values

New Hospital Construction $622,125,000

Hospital Renovations $29,475,000

Parking Structures $12,200,000

Medical Office Buildings $50,300,000

Commercial Buildings $20,700,000
Benefits of Having Us on Your Team
Reduce risk of design and construction errors through experienced and thorough oversight

Reduce project costs by informed aggressive value engineering and negotiating with contractors on change proposals and claims

Improve trust and cooperation from your architect, building code officials, contractors and others involved through our credentials

Exempt owners save between 1% and 2% of construction cost by our fully legal sales tax recovery program

Supplement your existing facilities, accounting and executive staff with all the benefits of outsourcing, but without the cost of a huge company

Keep abreast of all facets of your project by frequent verbal and written reports tailored to your needs.

Keep your project as well as your operation running efficiently by means of the latest in sophisticated automated scheduling, database, spreadsheet and other office systems.

Sleep well knowing that you have a design and construction expert on board looking solely after your best interests!